At the end of the day every charitable organization is only as successful as the people it helps. Working with people with a variety of disabilities, many of which are incurable, Cheshire Homes brings light to those whose lives it has touched. Read about some of the people who have experienced the warmth and caring environment of Cheshire Homes India, Lucknow.


Tanya Mehta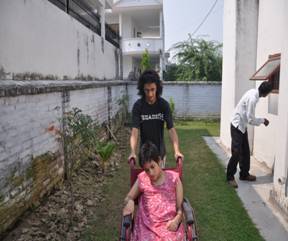 Tanya Mehta was a 15 year old girl from Kolkatta. Being brought up by a single mother who came to Lucknow through the internet, Tanya had multiple disabilities. She could not speak, could barely walk and was mentally retarded from birth. Several therapies had been tried out but none of them worked. After visiting several different homes, her mother picked the Lucknow Cheshire Homes due to availability of independent cottages and an onsite physiotherapy center.
She had fits and could not eat herself. She had to be fed and helped with bathing and all daily activities. Tanya loved listening to music. When her ears met with music she moved around in her chair enjoying herself but the moment the music was switched off she would become completely still. She enjoyed the radio and listened to it almost non-stop through the day. Somewhere in her consciousness the music made a mark!
While at Cheshire Homes, she underwent regular music therapy, physiotherapy and the company of caring staff who made it a point to talk to her even though she could not respond.
Julie Philip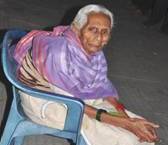 Julie Philip is a 95 year old lady from Lucknow. Her sister used to live in Lucknow and Julie was working with the Principal of La Martinere' College. She is also the mother of three sons. She came to Cheshire Homes initially to help, but later stayed on as her back became bent due to her old age.


She was provided with care, physiotherapy and medical care. She also helped other people in Cheshire Homes and looks after them. She escorted the residents to the hospital, made food for them and even did stitching for them. She has been in Cheshire Homes for 20 years. She is a source of tremendous encouragement for the Cheshire Homes Lucknow. God Bless her.
Ajay Kumar Panday
Ajay Kumar is a 48 year old from Ballia. He studied in an army school in Jabalpur because his uncle was in the Army. He is talented and educated. Having done technicians training in ITI he was a technician for Indian Polyfiber Limited. He got married in 1991 but unfortunately suffered a fit 3 months later and was diagnosed as having schizophrenia. His parents and brother abandoned him and just left for Nepal without telling him and locked the door.

Ajay then went to stay with his sister who was a school teacher. She found out about Cheshire Homes and sent him there in 1996 and he has been there since. He feels 70% cured after joining Cheshire Homes. He currently works there and helps out looking after the people, maintains the gardens, gets milk and gas and performs odd jobs as required. He is also an extremely talented singer and has been singing and performing since childhood.

Yasmin Bano
When asked the question, How did Cheshire Homes help you, one resident had absolutely no shortage of answers. Her commentary is as follows: When asked the question, How Cheshire Homes help you, one resident had absolutely no shortage of answers. Her commentary is as follows:"I was born in Sedanpur village in the Barabanki district approximately 30 km from Lucknow. When I was young I suffered from an ailment known as Quadroporasis, which is an acute muscular dystrophy. I had finished the 7th standard at my school in the village, however, as my hardships intensified, I was not even able to sit, let alone stand up. My body was very weak, immune system very fragile, and my appetite was almost non-existent. My life changed entirely when I was admitted to Cheshire Homes Lucknow on the 23rd of April, 2003. A few months with healthy food and exercise habits and I was on my own two feet again. I feel like I received a new lease on life due to the kindness of others. When I met my parents again, they were overjoyed. I could see my mother's eyes welling up as she saw me walk towards her for the first time again. I have now finished the 10th standard at a school in Lucknow. I am so grateful for what my teachers have done for me that I feel I must do the same for others. It is safe to assume that I enjoy teaching and I have requested training for the aforementioned subject. Shortly after my request was submitted, I gained admission into a "Nursery Teacher's Training Course." I will be forever grateful to those who have helped me in my life and made me feel alive once again."She is now employed as a Cashier the Army Canteen and she if financially independent.