Cheshire Home at Lucknow started in 1980 in an evacuee property near the Railway Station Lucknow, India in two rooms. The Home is now located on a 1 acre plot with greenery and in a pollution-free environment, having accommodation for over 40 residents. The Home provides relief to many thousands through medical camps, physiotherapy, vocational training services and more.

Leonard Cheshire Disability: International Affiliation
Internationally Leonard Cheshire Disability has over 255 partners globally and is part of a Global Alliance of non- governmental organisations in 52 countries. It works though its six regional offices based in Asia, Africa, Latin America and Caribbean. The core areas of our work include: The core areas of our work include:
| | |
| --- | --- |
| | Training and research in post conflict and post- disaster countries. |
| | Inclusive Education - promoting disabled children's right to a meaningful education. |
| | Livelihood Programmes to enable Persons with Disabilities (PWDs) to become independent. |
| | Health & Rehabilitation. |
| | Support to everyday living. |
Instructions for Visitors and Residents of Cheshire Home
Cheshire Homes Lucknow is visited by various persons on regular basis. The visitors are well received and conducted in a dignified manner as per the ethos of the Cheshire Homes Lucknow. At the same time the visitors are requested not to also disrupt the routine and working of the Home and its Residents. The staff of Cheshire Home Lucknow has been advised to observe the following guidelines.

1. Visitors are requested to visit the Cheshire Home at a time when the normal routine of the residents is not disrupted.
2.Visiting hours are from 11 am to 12.30 pm and from 4 pm to 6 pm.
3.Timings for the Residents and Staff are as follows :-

| | | |
| --- | --- | --- |
| Ser No | Time | Activity |
| (a) | 06.00 am | Bed Tea |
| (b) | 7.00 to 08.30 am | Bath and change |
| (c) | 08.30 to 9.30 am | Breakfast |
| (d) | 9.30 to 11.30 am | physiotherapy & Yoga |
| (e) | 11.30 am to 12.30 pm | Games & Entertainment |
| (f) | 12.30 to 13.30 pm | Lunch |
| (g) | 13.30 to 16.00 pm | Rest |
| (h) | 16.00 to 16.30 pm | Tea |
| (i) | 16.30 to 19.00 pm | Own Time/ TV |
| (j) | 19.00 to 20.00 pm | Dinner |
| (k) | 10 O? Clock | Lights out |
4. The Cheshire Home Administrative Officer/ Supervisor must be informed at least 24 hours; preferably 48 hours in advance of the impending visit. The purpose of the visit must be intimated to them so that the visitors are well received.

5. The Cheshire Home staff on receiving the information must get the Home ready to receive the visitors. The Home and its surrounding must however, be clean at all times.

6. The Cheshire Home staff will ensure that all the Residents and Staff are properly dressed in clean clothes and shaven and the Ladies/ Girls and children properly groomed.

7. The Cheshire Home staff will ensure that all beds are properly laid out and in one line in the room. Any extra material or clothes are placed in boxes and not left around the beds.

8. All Staff and residents must be at their assigned tasks as per timings given in above Administrative Officer/ Physiotherapist working hours are from 9 am to 1.30 pm from Monday to Saturday.

History of Cheshire Homes
How we began
Leonard Cheshire Disability organization was founded by the late Group Captain Lord Leonard Cheshire of Woodhall in 1948. By then a famous war hero, at the beginning of that year he was living alone in an isolated mansion in Hampshire winding up a community project for ex servicemen and women which he had started at the end of the war. Discovering that one of the former members of the community was terminally ill and had nowhere to go, he offered to care for him in his own home. To his surprise, he found others in need coming to him for help and so started what was to become a worldwide organization developing services for disabled people.


The second Cheshire Home (as they were then known) was opened a couple of years later in Cornwall, and then the third in Kent. Each of these projects followed the same pattern: inspired and encouraged by Leonard Cheshire himself, local communities came forward asking for help in setting up a service for them, they formed administrative committees, moved into whatever remotely suitable accommodation presented itself, and then set about fund raising for development. By 1955 there were not only five services in the UK, but the first overseas project had also been started outside at Mumbai in India.

The 1960s was a decade of rapid expansion. By 1970 there were 50 services in the UK, five in India and a Leonard Cheshire project of some sort in 21 other countries across the globe. Now well established as a provider of care services, the organization began to diversify the nature of the care it offered, and the early 1970s saw it trialing a care in the community project on the UK south coast. Rolled out successfully, the project became our Care at Home Service which is just one of the many services offered by today?s Leonard Cheshire Disability organization.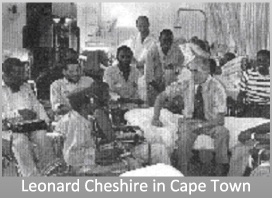 Today, Leonard Cheshire Disability creates opportunities with more than 21,000 disabled people and their careers through over 150 services in the UK. Services provided by the organization include care at home, residential services, respite care, day services, resource centers, independent living units, and services for people with an acquired brain injury.
Internationally, Leonard Cheshire Disability services continue to grow, and there are now over 250 services in 55 countries around the World, including day care, skills training and rehabilitation, independent living and residential care. Leonard Cheshire Disability also operates an International Self Reliance programme, which aims to help disabled people in developing countries become financially independent by providing loans to set up small business enterprises, funding vocational and professional training courses, improving access to training institutions, running disability awareness programmes and developing training and employment centers for disabled people.
Chronology of Events
1980 ? Cheshire Home at Lucknow started in an evacuee property near
Railway Station Lucknow, India in two rooms.
1980 ? Three spastic kids joined at the Home at Blunt Square Lucknow.
1989 ? Home moved to its present location in South City on Lucknow -
Rai Bareilly Road in open pollution free area.
2001 ? Added the Physiotherapy, Yoga and Acupressure Center (PYA)
2007 ? ?

Large donation by

Dr. SwadeshMallick

for Four Cottages for

independent living

2008 ?

Program in slum area of Lucknow covering a population of 300,000

persons started with three volunteer doctors and free medicines donated

by members and friends of the Home.