At Cheshire Home we make sure your donations go to the projects that you want to help in particular ? we have several ongoing projects to improve and expand the facilities we provide to residents.


Landscaping
Develop and expand existing garden including vegetable, fruit & tree plantations :
| | |
| --- | --- |
| | Donate plants, compost and pesticides |
| | Volunteer time for planting |
| | Sponsor a contractor for materials or labor |
| | Donate funds (from Rs. 100 onwards). |
Lighting and Power Supply
Solar energy for lighting and power supply to the home :

| | |
| --- | --- |
| | Donate materials |
| | Sponsor a contractor for Materials or labor |
| | Donate funds. We value your benign support. |
Medical Supplies
You can donate medical supplies such as medicines, bandages, first aid materials and prescription medication for specific residents. Sponsor supplies for a particular resident or a particular ailment.


Wheelchair Paved Track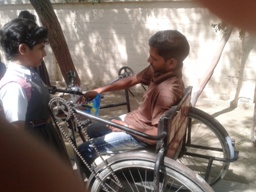 Dr. Swadesh Mallick kindly donated funds to build independent cottages at Cheshire Home. Now we need funds to further improve the habitability of the Cheshire Home Residents. We are looking for donations in cash or kind to empower the Persons with Disabilities (PWDs).
Expand existing community based rehabilitation (CBR) program. Examples are :
| | |
| --- | --- |
| | Open a cycle repair shop |
| | Set up a mobile vegetable shop |
| | Set up a beauty parlour |
| | Set up a tyre repair facility |